This can't be ignored anymore…
On 22nd April, thousands will take to the street to march for every single person affected by an eating disorder. 
The increase in people struggling with eating disorders in the last few years is shocking and catastrophic
Hope Virgo, founder of the #dumpthescales campaign who is leading the march says:
"The figures alone are not creating action. This is where we need every single person who cares about the disastrous impact of eating disorders. We must be the action. Eating disorders are the deadliest mental illnesses but the funding and support they receive has never met the demand.

People are being turned away from services, not able to get support and enough is enough. We need the government to act now." 
In addition to the devastating impact to people's lives, eating disorders are a hugely stigmatised illness. They are an insidious and dangerous mental illness that has complex roots and manifestations. One that affects individuals, family, friends & relationships with a horrifying impact.
The government blame the pandemic for the rise in people of all ages, receiving treatment. This ignores the reality, which is due to a lifetime of underfunding of services and research. 
The march will start at Trafalgar Square and end at Downing Street
Alongside the march, there is an open letter which talks about the urgent need to tackle the National scandal. In the letter, the calls include, a proper investment into treatment to meet the demand, and to make a commitment to a public strategy to tackle this national emergency. 
Mental health campaigner, Suzanne samaka,
"I have seen the catastrophic results that eating disorders can have on the person suffering, as well as the wider family and friends of that person. It affects every aspect of their life for a significant amount of time. As a family member you feel completely helpless and need much more support than is currently available, to ensure you can find a way through this awful time for your loved one. This march is key to highlighting to the government how much support the individuals and family networks need. We cannot do this on our own." 
Mental health campaigner Jodie says:
"We are so often reminded of just how vital early-intervention is across the health sector for optimal outcomes and yet for many people with Eating Disorders this critical early-intervention is denied based on BMI, an arbitrary number which is inherently racist, sexist and ableist and cannot accurately determine an individuals health status. It is disgraceful that in 2023 we are still seeing so many individuals failed, slipping through cracks and unable to access appropriate treatment with the knowledge that eating disorders are the deadliest mental illness; with no 'BMI category' being invincible to the significant risks of health complications that it poses."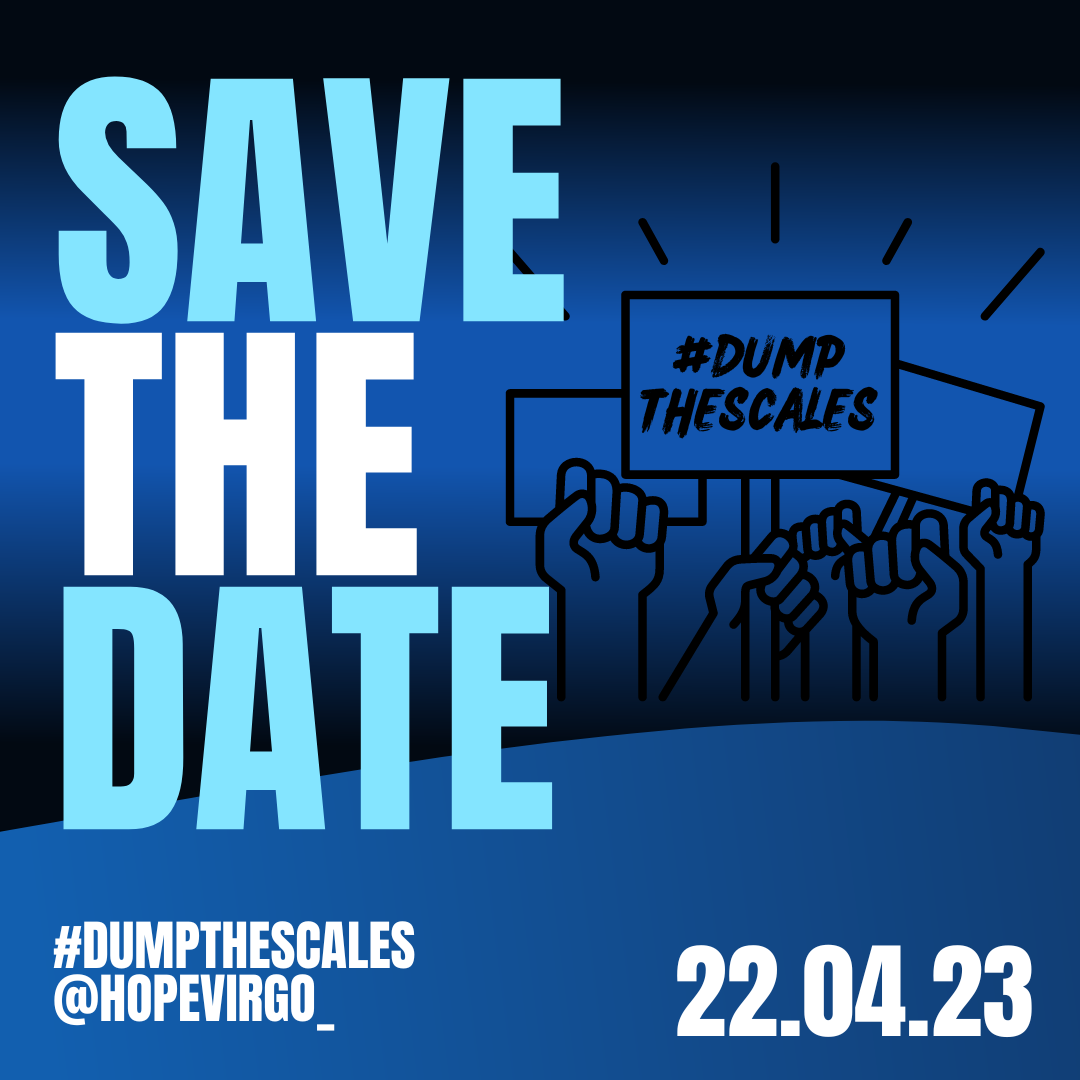 Contributed by Hope Virgo,
Author and Multi Award Winning Mental Health Campaigner / Public Speaker