Psychoeducation and Therapy in the Prevention and Treatment of Obesity: An effective alternative or supplement to clinical interventions?
Having received an Enterprise Development Programme grant from the Association of Mental Health Providers, First Steps ED have continued to develop and coproduce (with experts by experience) a comprehensive understanding of obesity and weight management services and its relationship to eating disorder presentations and therapeutic services.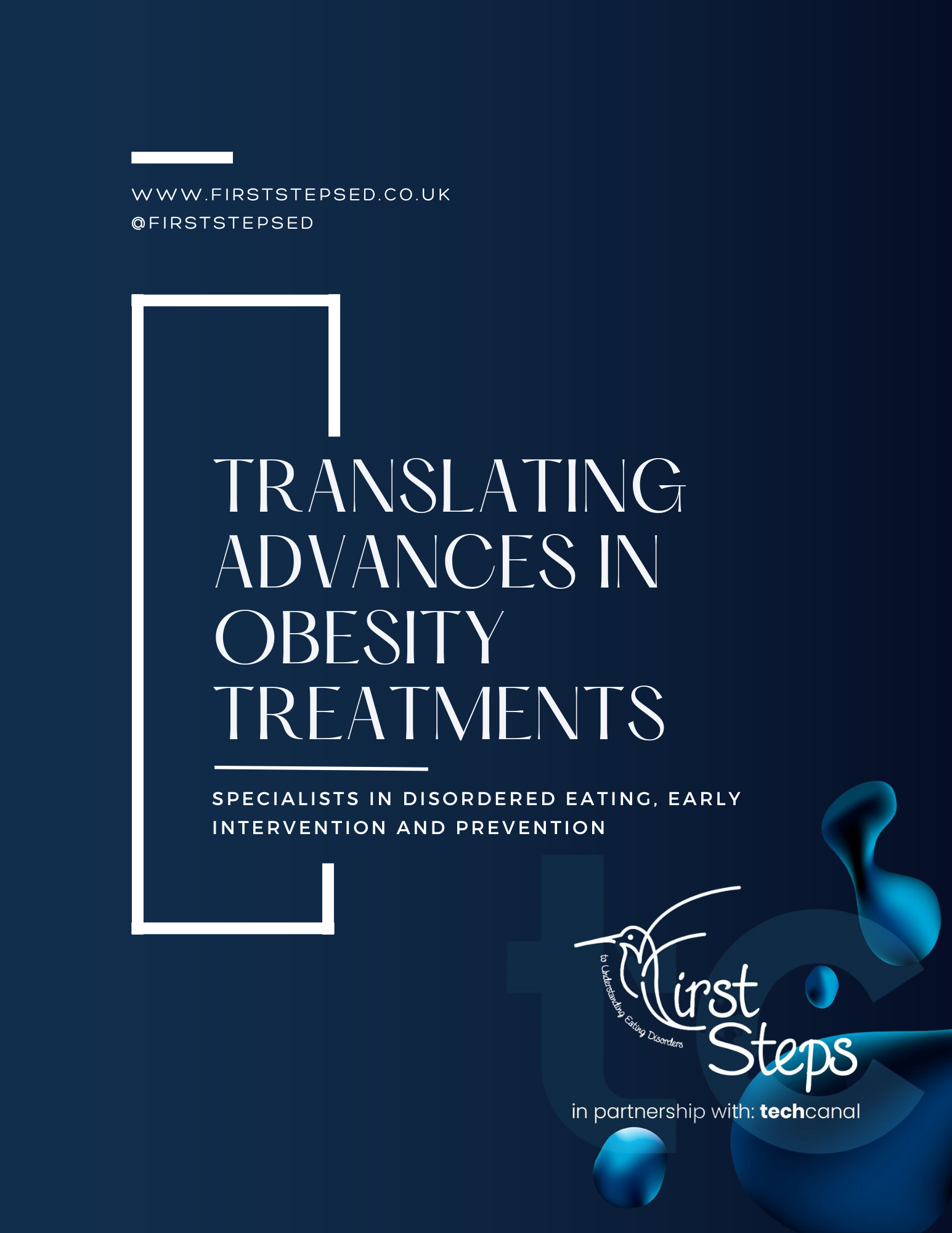 Did you know…
Research has shown that individuals with obesity and comorbid eating disorders are at higher risk for several medical and psychosocial complications than individuals with either condition alone. Yet, healthcare professionals specialising in obesity treatment who do not address eating disorder behaviours, when these are present, will likely see unsuccessful weight loss interventions. Likewise, eating disorder specialists who don't address weight management with individuals living with obesity may see a lack of engagement with clients, instead, looking to weight loss treatments which can cause further problems for patients already engaging in disordered eating behaviours.
Whilst our objectives and approaches may look different, professionals working in the fields of either obesity and/or eating disorders recognise the common goal of promoting a healthy relationship with food and our bodies. It's important that patients living in larger bodies and presenting with disordered eating behaviours receive coordinated and effective treatment to prevent any severe physical and mental health consequences.
–
Kevin Parkinson, First Steps ED CEO, will be joining Shirley Adu-Ntiamoah, a senior registered dietician currently undertaking a doctoral degree in digital family weight management interventions, to explore the impact of therapeutic interventions in the prevention and treatment of obesity, either as an alternative or supplement to clinical intervention.
About First Steps ED
Equity for eating disorder support has always been a core value of First Steps ED, offering support to all ages, genders, backgrounds and presentations. For our team equity starts with education and understanding, which is why we are undertaking a new programme and growing number of partnerships to help us create a forum for change, inviting practitioners and policymakers to consider the key issues for those impacted by eating difficulties and disordered eating behaviours, especially individuals living in larger bodies who find themselves disproportionately considered in the assessment and treatment of eating disorders.
Together through our webinar series and 2023 conference, we want to continue to raise awareness and ensure we learn from those of lived experience to develop effective early intervention and a cost-efficient, joined-up care, integrated pathway that works for patients.
More about our guests
Shirley Adu-Ntiamoah, our first webinar guest, has previously worked on a systematic review and analysis which examined the effectiveness of e-health interventions for the treatment of young people living with obesity or overweight. The review highlighted the potential of e-health interventions, but also the 'digital divide' which would otherwise prevent a young person from receiving effective treatment due to the impact their age, gender and socioeconomic status. Shirley is also working as a part of Complications from Excess Weight (CEW) clinic for children which works to address health inequalities by considering culturally appropriate factors and a personalised approach to the intervention and treatment of severe obesity.
Over the next few months, we'll continue to explore behaviour weight management programmes in relation to therapeutic approaches traditionally associated with eating disorder treatment with the objective is to develop strategic partnerships with the NHS and independent sector obesity services to support a change in the narrative and provide psycho-education and therapeutic services to patients and clients accessing weight management services and support as a new care model.
Thank you to everyone who joined us for this month's webinar, it was a great discussion and we hope to continue these conversations. Click below to download a copy of our latest webinar presentation, including links and references to the research and information we discussed. For any further information, please contact our team.
We'll be hosting a special day of training on Tuesday 7th March to offer professionals working within healthcare, weight management services and supporting clients living with obesity a deeper understanding of disordered eating and eating disorder presentations.
Join us as we continue to
change perspectives, break down stigmas and end misinformation

for World Obesity Day through our exclusive training offer.
On Tuesday 7th March we'll be offering our 'Eating Disorders: All Ages and Genders' and 'Body Image and Perception' CPD-accredited training, free (for one day only!) to professionals working within healthcare, weight management services and supporting clients living with obesity a deeper understanding of disordered eating and eating disorder presentations.
Free places are limited, so we encourage any professionals interested in book there place as soon as possible using the code 'WOB2023' (usual cost £49)
–
First Steps ED's CPD accredited foundation courses aim to raise awareness and knowledge about eating disorders and disordered eating. Each course demonstrates a range of information and support tools that can be adopted in various professional settings. Whilst they may not train you in a specific diagnosis, the training will equip you with the information and skills to spot the signs and take an evidence-based approach to support someone at risk of eating difficulties and eating disorders. Both courses on offer are aimed at students and professionals who may encounter vulnerable adults or children who could be at risk of developing disordered eating thoughts or behaviours.
We believe in early intervention and trust that better education around disordered eating behaviours can play an important role in protecting those who are at risk of developing an eating disorder.
Intended Learning Outcomes:
To gain a greater understanding of eating disorders, signs and symptoms, and the effects they have on individual of all body types, ages and genders.
To understand what recovery means with regards to eating disorders.
To develop new skills around communication and understand how to build a relationship with an individual with an eating disorder.
To gain new support tools and strategies that you can use with eating disorder clients.
Delegates will receive a 90 minute CPD credit Certificate on completion.