A New Year of Hope and Opportunities at First Steps ED
First Steps ED has seen a few changes since our founder, Cathy Cleary, set up the first support group back in 2004, a service open to anyone affected by eating disorders.
We are now supporting people throughout the Midlands (with our team and service present in schools and universities in the area,) offering a range of services, including one-to-one sessions, counselling, befriending, creative therapies, and of course, our support groups, which continue to be a fundamental part of what we do. We also offer a comprehensive and accredited training programme for professionals looking to learn more about eating disorders.
Support Groups
Sometimes our struggles can be hard to explain, with the fear that what we are saying might not come across properly or that someone won't understand. A great thing about our groups is connecting with a network of like-minded people who are experiencing the same challenges and achievements as you. They are facilitated by our incredible team or staff and volunteers too, who often have first-hand experience of eating disorders.
First Steps run regular support groups for all ages, both online and face-to-face. Most of the groups we run offer a weekly topic or theme so you can choose to attend the session that feel right for you and your recovery.
If you think you could benefit from support groups at First Steps ED, you can contact our team today to find out what is available to you. And check out our blog 'Support Groups and How They Can Help'.
Workshops
Following feedback from our service users and families, the team has developed a range of workshops which offer attendees new skills, information and insight in challenging negative behaviours, identifying triggers and establishing new strategies and coping mechanisms in recovery. Each of our workshops can be a lifeline for those struggling with eating difficulties, as well as for those who are supporting recovery (Skills for Carers).
The 'Finding Peace with Food' workshops were introduced in 2021, following a demand for more support around nutrition and mood. There is a lot of information out there which discusses nutrition and it can be very difficult to understand what is true. Each workshop is researched and evidence-based with lots of room for discussion, advice and the ability to ask questions on anything nutrition related.
The new Binge Eating workshop series is a four-week series, designed for service users struggling with binging behaviours relating to an eating disorder or eating difficulties. The workshops offer a toolbox of skills for approaching their relationship with food, and tackling problems or difficult situations that arise because of disordered eating behaviours.
The First Steps ED Skills for Carers programme is a four-week workshop series, designed for parents and carers to offer a toolbox of skills for tackling problems or concerns that can arise from a loved one with an eating disorder or eating difficulties. Each group offers a safe and secure space for parents and carers to share their own experiences, giving everyone an opportunity to talk to others who might be in a similar situation.
New for 2022 will be our 'Understanding Body Image' workshop following an increasing demand for more support around body image and acceptance, recognising the previous success of First Steps ED's original workshop series 'Body Image Awareness'. The new series will be redesigned in line with our new resource pack (of the same name). Moreover, to streamline First Steps ED services, this new offer will follow the same format as our other four-week workshops (Skills for Carers, Finding Peace with Food and Binge Eating Workshop) which will be discussed in more detail below.
One-to-One Support
Our eating disorder-informed and qualified team know that there is no one-size-fits-all approach to recovery so we have a variety of options when it comes to your recovery journey with First Steps ED, whether you opt for peer support, counselling or our befriending service.
Service users can choose between our standard counselling service or Private Practice. Guided by you, we'll agree a session plan and you'll be invited to attend regular sessions with the aim for you to be in control of your recovery journey and make progress towards your unique goals. What is great is the team is available both during the day and most evenings to ensure we are here to provide you with the right amount of support without interfering with your daily life.
Alternatively, and one of our most beloved services, is our Befriending support. It is our multi-award winning 6-to-9-month weekly support programme, recognised by NHS England's National Integrated Personal Commissioning Team, where we match a service user with one of our highly trained and supervised befrienders.
Many of our Befrienders have a lived experience, with an empathetic and knowledgeable approach to the challenges you are facing at the moment. They 'get it' and understand the intensity of an eating disorder, whether you yourself are struggling or you're caring for a loved one. The service has been, and continues to be, a lifeline during those difficult times. You can learn more on our blog 'How Befriending Helps…'
Creative and Complementary Therapies
Finding what works for you and your recovery isn't always easy, which is why we try to extend our offering as much as we can. A popular option for our service users is our award-winning Kundalini Yoga group with Rachel Barnett. Rachel is a qualified yoga teacher who, last year, received he 'Derbyshire Beacon of Hope Award' for her incredible support and kindness throughout the pandemic to so many of our service users.
Kundalini Yoga is unlike Hatha Yoga as it focuses on breathing and meditation. It is recommended for people with eating disorders as it does not require the participant to get into difficult or strenuous positions.
Another option is Reiki therapy. Pronounced 'ray-key', it is considered an effective complementary therapy and can be a valuable step in recovery. Reiki is a type of energy healing, carried out by practitioners to aid wellbeing and rebalance the mind, body and soul. You can learn more, visit our blog 'What Is Reiki and How Does It Work?'
Professional Training Offer
As well as supporting our service users, we want to raise awareness for early intervention and better treatment of eating disorders and mental health, which is why we are so proud and passionate about our latest training package.
First Steps ED's CPD accredited foundation courses aim to raise awareness and knowledge eating disorders and disordered eating. Each course demonstrates a range of information and support tools which can be adopted in various professional settings. Whilst they may not train you in a specific diagnosis, the training will equip you with the information and skills to spot the signs and take an evidence-based approach to support someone at risk of eating difficulties and eating disorders.
To find out more, you can visit our website at www.firststepsed.co.uk or contact our training team on training@firststepsed.co.uk
–
One thing that remains the same is our passion and our friendly and non-judgemental approach for anyone struggling with an eating disorder, with or without official diagnosis. Our team of staff and volunteers are passionate about the support and service we provide, many of whom have had personal experience in dealing with mental health either as a patient or in a carer role for a loved one. As 'Experts by Experience', our team are here to offer hope that things can get better, just as Cathy did at the very start.
As a charity, we rely on the generosity of our service users, their families, individual fundraisers, as well as charitable support from businesses and organisations. There are lots of different ways that you can support First Steps ED (because we couldn't continue our work without your help!) Learn how you can get involved here.
We are so excited for the year ahead! Huge thank you to our wonderful team, volunteers, fundraisers, friends and followers! Because of your hard work, support and donations we can be here to support those who feel left behind by more traditional support channels, as well as those seeking any additional support or training with regards to mental health.
To keep up to date on everything here at First Steps ED, make sure you're signed up to our newsletter, and follow us on Facebook, Twitter, Linked In or Instagram! For further information about us have a look around our website or contact the team today!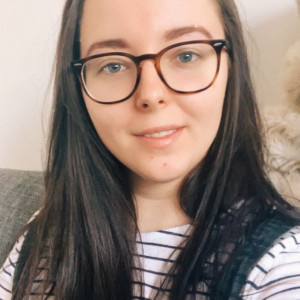 Contributed by Lucy Robinson
Fundraising, Marketing and Communications Lead