The Cost of Living Crisis with an Eating Disorder
The cost of living crisis in the UK has a huge impact on all individuals living with an eating disorder or in recovery. Food and energy prices have been rising markedly over the past year, this is in the response to the conflict in Ukraine, and the global recovery from the Covid-19 pandemic putting pressure on the economy. According to the Bank of England the current inflation rate is 10.1% in the month of March 2023. Inflation rates are now at record high and have ramped up the price of pretty much everything. The Food Foundation has discovered one in seven adults have skipped meals, eaten smaller portions or gone hungry because they cannot afford food due to the cost of living crisis.
How does this impact ED's?
So, you might be thinking how the cost of living crisis can affect ED's? There has been an increase in reports of eating disorders over the past couple of months. The cost of living crisis has impacted people who skip meals or go hungry due to being unable to afford food. As you may be aware there is a lot of uncertainty about the cost of living and inflation rates, along with limited financial support. Periods of stress and uncertainty can become a trigger for eating disorders and anxiety around the recovery process. The crisis has become a trigger or a relapse for people which have recovered from restrictive and unhealthy behaviours due to the cost of foods and what they can afford, which can potentially influence the ED.
Meal plans for the recovery process.
Many people with eating disorders such as anorexia, bulimia, binge eating disorder and many more, have structured meal pans to help show the type and amount of food the body needs. This is a crucial skill in the recovery process and provides a supportive technique for the individual. Recovery meal plans can include a wide variety of foods and suggest eating something different each day. Individuals with eating disorders can find food shopping an overwhelming experience potentially making individuals feel anxious and more avoidant of certain foods.
The cost of food is increasing, making it more of a daunting experience for individuals with an eating disorder, as they fear they won't be able to stick to their meal plans or be able to afford it. People may be forced to buy foods which are not on their plan, due to unhealthier foods being far cheaper. This can potentially cause more food waste from buying foods they don't want. Being afraid of not sticking to the plan and being unable to afford the food can create the feeling of guilt and can make you feel negative and stressed about your recovery. Batch cooking may be a more cost-effective process when making foods, however meal plans often have a wide variety of foods to maintain a balanced diet.
3 steps to help with saving money on your food shopping.
Here I have created three easy steps to guide you on how to save money on food shopping while inflation rates are still increasing.
Step 1– Good planning is key to saving money on food. Allocating time can help you think about what foods you need to buy and budget how much money you need to spend. Good meal planning will help you think what foods you already have got in your cupboards, fridge and freezer. Knowing what you have got will allow you to make a list of what you need to buy, therefore saving you money in the long run.
Step 2– Online shopping is a good way to stay in control of what you are buying. It is also a useful way to shop as individuals with eating disorders can find food shopping environments overwhelming and uncomfortable. Online shopping can also help you find cheaper options in your own time, and you can search for certain specific products on meal plans without the feeling of being overwhelmed. This will help you feel like you're in control and comfortable when food shopping.
Finally, Step 3– Loyalty cards are a great way to save money when food shopping. Loyalty cards such as Sainsburys Nectar Card and Tesco Clubcard can offer huge discounts when shopping. It can include multi-buy options to keep your cupboards stocked up for later dates and weekly discounted prices on everyday essentials and any other bits. These can help you save money and look for discounted product when shopping in-store and online.
The Broken Plate 2022 – The State of the Nation's Food System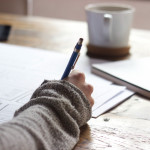 Contributed by

Caitlin Harrison