The A-Z of Fundraising for First Steps ED
As a fundraiser, you can help us continue to provide support and education to anyone affected by poor mental health and eating disorders, without judgement or discrimination.
Over the year we will respond to over 1250 self and professional referrals for one-to-one direct support for their mental health, as well as offer support and training in both education and professional settings. In supporting us, you will help us continue to fight for earlier and better treatment for mental health issues, something the team is passionate about. Don't forget to read our Fundraising Guidelines before you get started.
We have put together an A-Z of fundraising ideas for those who want to support us this year, but don't know where to start. There is something for everyone here, so whether you're feeling creative, sporty or want to GO BIG! We have also included ideas that can be done both online and in-person to make sure fundraising is accessible to everyone.
A is for Auction
Find some people willing to donate a couple prizes and get your friends or colleagues to battle it out at auction!
B is for Bake Sale
It's a classic, but always a winner. Team up with some friends to bake up something fabulous to sell.
C is for Crafternoon
This idea was inspired by a service user who enjoys an afternoon spent experimenting with different crafts! Grab some paints, clay or whatever your medium and pull in some friends or neighbours… Make it a competition, or just for fun!
D is for Dance-a-thon
Put on those dancing shoes and let's boogie for a good cause! Ask for a small entry fee, or just a donation on the door.
E is for Egg and Spoon Race
It's everyone's favourite school sports day race, but why should the children have all the fun! Find the perfect prize for the winner, then have entrants pay to enter!
F is for Fun Run
A fun run can be the perfect event for the whole community. Ask for sponsors or invite people to pay a small fee to enter.
G is for Guess The…
We've all done it! Guess the name of the bear or sweets in the jar. Pay a donation to make a guess…
H is for Happy Birthday!
Shop for the people you love on sites that give back to charities (like Amazon Smile!) Or, when your birthday comes around, why not consider asking friends and family to donate to your favourite cause!
I is for Illustrations
Time to turn those doodles into donations! Invite your friends, family or strangers to come together for a illustrating competition. Ask people for a small donation when they submit their designs, and share the entries on social media and let your community pick a winner!
J is for Jumble Sale
It's always a good time for a clears out, so why not pair that with some fundraising!
K is for Karaoke Night
Join forces with your local pub, or make space at home for a cheesy karaoke night. Why not ask for a £1 per song (and maybe there could be prizes for the best/worst singers!
L is for Loose Change
It's an easy one! Ask your friends, family or colleagues to donate that loose change (every penny helps!)
M is for Marathon
If you're a bit of a runner, there are a number of opportunities throughout the year to get involved and support a charity.
N is for Non-Uniform Day
Ask your peers to donate a couple quid to wear what they want. It could be 'dress-your-best', fancy dress or just an opportunity to keep it casual!
O is for Obstacle Course 
Whether you're down for 'Tough Mudder' or want to set up your own course, this one is bound to be a lot of fun! Raise money with either an entry fee or sponsor forms, just make sure it's safe before your start!
P is for Photography Challenge
Choose a theme and invite people to join for a small entry fee and find someone to judge!
Q is for Quiz Night
Invite the whole community to join you in a battle of the brains. It's a fundraiser favourite!
R is for Raffle
Speak to local businesses and find out if they have any vouchers or gifts to donate to your raffle. Whether you choose to run it online or in-person is up to you!
S is for Sweepstakes
Who doesn't love a sweepstake?! Grand National, World Cup, or even The Great British Bake-Off!
T is for Talent Show
We don't get enough opportunities to show off our hidden talents, so why not do so for a good cause! You might be surprised at what your neighbours and friends can do!
U is for Unplug
Get sponsored for a digital detox, or challenge your friends!
V is for Village Fete
Find a team to help you put on the event of the year for your village. Dig out the tombola, find some local bands and raise a glass to a good cause!
W is for Wear Blue
Get your office or school to wear the First Steps ED colours! Raise awareness for what we do and get some donations…
X is for X-Factor
Kinda like the Karaoke idea, but with added glam! Maybe you'll find a local artist destined for the stage!
Y is for Yoga Marathon
A marathon with a difference. Set up the class online, and ask for donations to join.
Z is for Zumbathon
Yoga not for you? Feel the rhythm and physical challenge which is Zumba!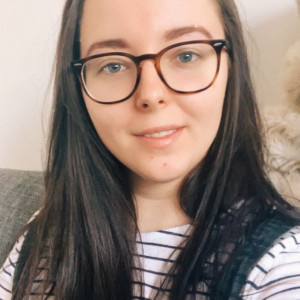 Contributed by Lucy Robinson
Fundraising, Marketing and Communications Lead