Spread Some Joy this 'International Day of Happiness'
This weekend it is the UN 'International Day of Happiness', a day in which we come together to recognise that our actions matter, kindness matters. As the world faces unprecedented challenges, our wellbeing is more important than ever. We all have the opportunity, today and every day, to contribute to a more compassionate world.
So, how can we spread a bit more happiness and positivity in our everyday lives?
Surround yourself with positivity
Whether it is online or in real life, surround yourself with people, things or places that fill you with joy and positivity. It's difficult to maintain that good mood, if you surround yourself with negativity. Check in with yourself this week, and think about the things in your life that might be blocking your peace.
An example might be the morning news. Every morning when I got up for breakfast, I would instinctively switch on the TV and watch the news, even before school many (many, many..) moons ago. It wasn't until a couple years ago as the pandemic creeped into our lives that I switched up my routine.
Every morning I was starting my day feeling anxious about the world, and I had had enough. From then I made a deal with myself to boycott the morning news and get my weekday updates later in the day from a site I trust online. It was important – and I've never gone back!
Share positive messages
Be the positivity you want to see in the world. Sometimes it can feel like positivity is evading you, so if you start to feel that way it is time to stand up and spread your own peace and love. Use online spaces to talk about the things that are important to you. Share ideas, break down stigma and just create a whole network of supportive and like-minded people.
Create a joy list
I'll hold my hands up and tell you I have not actually done this (yet!) But it's something one of our followers shared with us on Instagram and I had to share it.
At the start of each month, they put together their 'joy list', and the things they love about the season or weeks ahead no matter how small that might be. Now, they create a collage of all things, but simply putting pen to paper and recognising those things that make you smile should also do the trick. (If any of you do this for next month, please tag us in your lists or collages!)
Spend time in nature
If you're an avid reader on the First Steps ED blog, you might've already seen Georgie's blog 'How Nature Helps My Mental Health' and how it offers her a fresh perspective and mood boost.
Go for a walk in your local park
Enjoy your lunch outside
Find a bench to just observe nature
Find a spot and lay on the grass to appreciate the cloud or stars
Connect with people
We all have the opportunity to reach out to those who are going through a difficult time right now. Likewise, it can be beneficial to our own mental health to reach out to people and surround ourselves with a network of support friends, family and colleagues.
One thing I love about my job is coming into the office. Whilst it doesn't happen often, when I do get to pop in and spend a day with my team it really does give me a mood boost – no matter how long the to-do list is that day. Being surrounded by a team with such passion and heart for mental health is truly wonderful. If working with this team has taught be anything is that prioritising happiness and joy in our office makes for a much better working environment.
Donate, fundraise and support
Whether you want to donate time, money or services, there are many charities and organisations who need your support right now. The pandemic introduced a number of new challenges for charities like ours. It was a time where we saw our fundraisers drop, just as the demand for our services reached a new high. Now more than ever before we are reaching out to our service users, stakeholders and wonderful supporters to help us in any way they can so we can continue providing essential services to those struggling with their relationship to food.
You can learn more about how to fundraise, donate or join the team as a volunteer over on our website.
–
We all have the potential to be positive role models to those we love, and to those we bump into on the street. Just a smile to someone on the bus home can make a real difference in someone's day – positivity can be contagious.
Here are just a couple of our teams' super simple ways to spread the love this 'International Day of Happiness';
"My father-in-law is so sweet and when he's walking anywhere, whether it be in a town, city or a trail he smiles and greets anyone we bump into. 99% of the time, they smile and greet him back and I always find it gives me a quick mood boost." – Lucy Robinson, Marketing and Comms Manager

"Putting a surprise little note on someone's desk or lunchbox to make them smile" – Naomi, Specialist Support Officer

"Giving and receiving compliments is always something that makes me feel a lil better" – Logan Strouther, Specialist Support Officer

"Kissing Stanley! And supporting others, making new friends and doing things out of my comfort zone" – Megan Megan Rowe-Jones, Volunteer Coordinator (and FYI, Stanley is a really cute cat!)

"I send songs to my friends that remind me of them" – Zoe Burnett, Specialist Support Officer

"Little acts of kindness, like buying someone a coffee" – Polly Strangwick, Services Coordinator

"Helping people, and doing something that will make someone else's day a little easier" – Becky Hall, Specialist Support Officer

"Seeing an old friend, or going out dancing!" – Sharon McCabe, Integrated Community Support Coordinator

"My best friends live miles away so I love to send them little things in the post" – Harriet, Specialist Support Officer
Is there something you do that is not on our list? You can DM, comment and tag us in your posts on socials!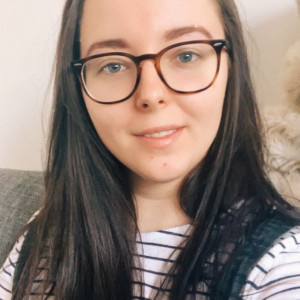 Contributed by Lucy Robinson
Fundraising, Marketing and Communications Lead