Join Team First Steps ED For Ramathon!
Event date: Sunday 19th June 2022
Minimum pledge: We ask you to set a target of £250 but there is no minimum pledge! Have fun, get fundraising and help raise money and awareness for those lives affected by eating disorders!
Those who sign up for local running events often do so for a whole number of reasons. There are those who come to compete, hoping to win the race or beat a personal best, and there are those who join with friends, hoping to make it to the end with lots of laughs along the way. Whatever the reason, simply showing up to events like the Ramathon can really make a difference and truly put the FUN in fundraising.
The Ramathon is Derby's favourite charity road run, and one of the oldest and biggest events of its kind in Derbyshire. It's a half-marathon, and an event that raises thousands for local good causes. We hope that 2022 will be another success, with lots of First Steps ED fundraisers crossing that finish line.
If you've run before, this year's event will be bigger and better than ever, with a route for you to truly enjoy the city-scapes and stunning scenery of our favourite city. There truly is so much to love about this race, with its fast and flat course and large crowds which will motivate you and excite you the whole way round!
If 'fast and flat' isn't for you, don't worry! You don't need to be a serious runner to take part in the fun and fundraising. And if a half-marathon sounds a bit steep for your first venture, check out the Derby 5km event which runs alongside where runners can still run, walk, skip or jump around the course.
This year we are so excited to be a partner charity of the event and hope to find a team of runners, fundraisers and volunteers to help make this an event to remember in the First Steps ED calendar.
Run for us.
You can apply for one of our charity places simply by emailing the team at info@firststepsed.co.uk. Someone from our team will get in touch with you with your exclusive charity pin and put you in touch with our fabulous fundraising manager (that's me!) PLUS! By choosing to run for First Steps ED and signing up with a charity pin, you won't have to pay the RunForAll registration fee, bonus!
If you have personal experience of an eating disorder or current health issues, you should consider any health and recovery implications taking part in the Ramathon or Derby 5 Mile this year. If you're unsure, talk to your GP or loved one and discuss whether this is the right time to take on this challenge.
Apply for a place today with Team FSED and be part of our campaign to raise awareness for early intervention and better treatment for those struggling with eating disorders and difficulties. Help us provide hope, opportunity and choices to those in recovery.
Volunteer on the day.
Don't fancy running but what to be a part of Team FSED at this year's Ramathon?!
You can be a part of our fun and friendly team and help this year's runners have a fantastic experience whilst they run and fundraising for us (and lots of other amazing causes.)
We can't do it without our volunteers and raise vital funds for the charity. Whether you are one of the route marshals cheering on the runners, or manning the drink stand ready to refuel our fundraisers, you're a part of one of our favourite fundraisers of the year, and making an impact to those affected by eating disorders.
To learn more about how to volunteer and what you might be doing, contact the team today on info@firststepsed.co.uk (and why not get your friends involved for a fun day out in Derby!
Why support us?
Whether you choose to fundraise or volunteer, getting involved in this year's Ramathon will help us continue offering our award-winning services to hundreds of service users per year across the Midlands (and beyond!)
I like the information offered within First Steps ED groups as they allow me to think about things in a different way. For example, the session about threat, drive and soothe was great because I am trying to make myself give time to soothe as it is a necessary function and part of something you need to be healthy. The sessions are good. I like that you can have a week when you observe because you are maybe not having a great day but then any contribution is valued. It is really sensitively done. Thanks!
Another informative session of Waiting Well, lots of helpful information and strategies to help with mindset and recovery. I just wanted to say thanks for your continued hard work and dedication to the group, it's very much appreciated.
I really loved the Young Persons Wellbeing Workshop and how kind and understanding everyone was and the fact you are always listened to. I also learned a lot of great techniques and supportive advice that could aid my recovery. Thank you!
I found First Steps ED following a recommendation for their CPD training, and have since been so inspired by the work that they do! More services should follow by example of this incredible team. Thanks for everything you do!
I recently completed the Skills for Carers programme at First Steps ED which gave me the opportunity to listen to and connect with other people who understand what we are going through but who aren't directly involved with our family. It was good to have a chance to reflect on ways to tackle tricky situations and improve caring skills. Thank you so much for your help. I feel less alone and a bit better able to cope with the caring task now.
Supporting my loved ones recovery has been difficult, and there was many hurdles we had to face in the beginning. I feel so incredibly grateful for finding First Steps ED who have been able to not just support my daughter but offer me and my husband support during this time. Without the dedicated support of the staff at First Steps I know that my daughter would not be where she is now. It truly is a service more people should know about.
The befriending service has meant so much to me, to have someone to talk to (via email) who is so positive and encouraging. My befriender has been so wonderful to me and really inspired me to try harder to get well. I couldn't have asked for more from a befriender. Thank you.
Plus! We'll be there to support you every step of the way, with both our Fundraising Manager (me!) and our lovely volunteer co-ordinator, Megan.
We will give you plenty of fundraising ideas, advice and FSED resources.
One of our runner vests for you to wear on the day,
Dedicated support from myself and Megan to help you reach your fundraising target, or get you set up for volunteering on the day,
We can help you share you story and fundraising to reach more people who might want to donate!
Plus, so much more. All you need to do is ask!
–
The Derby Half Marathon is supported by Asda Foundation, Derby City Council, Active Derbyshire, Gem Radio, Timms Solicitors, Motorpoint, High5, Arla Protein, Runderwear, The Derby Runner, Aftershokz and Bananakick.
Please note: any run, half or full marathon can be a demanding challenge. Before we take part, we suggest that you speak to your doctor or clinician, especially if you have a current or previous medical condition including any experience of an eating disorder. Check out the First Steps ED Fundraising Guidelines before you get started.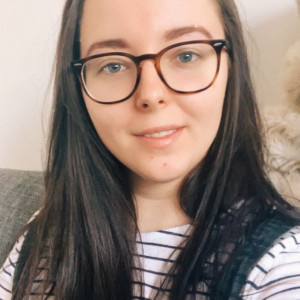 Contributed by Lucy Robinson
Fundraising, Marketing and Communications Lead