Charlotte's 'Steps for First Steps ED' Fundraiser!
This week we've been talking to the lovely Charlotte who has been fundraising for First Steps ED! Join us as we learn a little more about what she's been up to;
Thank you so much for fundraising for First Steps ED Charlotte! What made you decide to fundraise for First Steps ED?
I chose to fundraise for First Steps due to the amount they have helped me and supported me. At the moment First Steps is supporting me with eating out; which I had not done in almost 7 years beforehand. Their support has given me a new lease in life, allowing me to simultaneously challenge food situations and have someone to talk to or confide in away from my family and my community team.
Going out for meals has hugely improved my social life; previously I would refuse to go out with friends or family in any situations eating out or sit and watch others eat. Now overcoming this fear has helped me to meet up with friends more for meals, go on family trips overnight and not worry about food.
I am still getting fortnightly support with eating out in a range of situations, and still have stuff to work on, however, my quality of life has vastly improved. Moreover, I currently am attending support groups run for free by first steps and when I return too university, I will have access to a befriender; so, I have somebody to speak to. Thus, I believe others all over the country should be able to access this amazing service. I have friends from all over the country with eating disorders who do not have access to this service, therefore I am passionate that this service deserves the funding to reach out to others across the country.
What did you do for your fundraiser? And who joined you?
We aimed to walk a combined distance of 105 miles over eating disorder awareness week, due to the fact that 1 in 5 people with eating disorders will sadly die due to this horrible illness. One of my friends recently passed away, so this is even more poignant for me.
We smashed the target by the 4th day so decided to extend the target to 150, then by day 5 we beat this also and got up to a huge 223 miles over the week in total. Some of my friends and family took part, some fully recovered from eating disorders or affected indirectly by the cause. We also had some four-legged friends join in on the action. We had people travel around the country to do their part – from York to the Lake District to Manchester and the Peak District.

What was your favourite thing about fundraising?
Definitely the support we received via social media and word of mouth. It was like a community and people came forward who I least expected to donate or take part. Furthermore, spreading awareness of this service has helped a few friends who did not know about First Steps previously.
What would you say to someone who is thinking about fundraising for First Steps ED? 
I would say that First Steps is an amazing service which we are lucky to have. Utilise every part of the service- from the groups, to the meal support, to the befriending service and even just having someone to talk to.
What would you like to say to everyone who supported your fundraising?
I would like to say thank you to all the people who donated and all the people who took part. You are all heroes, and your hard work has not only raised money to help people with eating disorders to get the support they need and deserve, but you have spread awareness about eating disorders to others. Hopefully, educating people will ensure that people are aware and can identify eating disorders in others or even themselves, so they can get access to support earlier. I hope in the future people from all over the country will have access to this extraordinary service.
Lastly, I would like to dedicate this fundraiser to my friend who recently passed away due to her illness, she would have really benefitted from this service and she would have been proud of all the people taking part and donating to the fundraiser.
–
Charlotte and her supporters have so far raised an incredible £575 for First Steps ED which will go such a long way to supportive lives affected by eating disorders. It'll give us the ability to reach out to those who may not have otherwise found or accessed support, as well as the parents and carers of service users who want additional support and education to help them play a key role in recovery. To find out more about what we do, or to fundraise for us you can contact us today!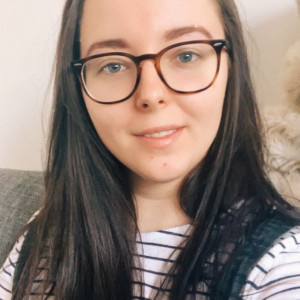 Contributed by Lucy Robinson
Fundraising, Marketing and Communications Lead